Display a background image or background video with overlay text.
How to use
Click ⊕ to add a new block – How to add a new block
Select the AMAYA Hero Image or Video block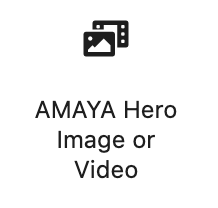 In the block toolbar, you can change the block alignment to Full Width
In the right sidebar, find all the settings for the block
This Block comes with the following settings:
Background Type
Select if you want to display an Background Image or Background Video
Background Image / Background Video
Depending on your Background Type Choice, you can here upload/select your Background Image or Background Video
Add Overlay Color
Add a transparent Overlay color to make text more readable.
Overlay Color
Move the slider on the right to set the transparency.
Overlay Color Width
Select overlay color widh (50% / 100% )
Content Color
Select content color (dark / white / white + theme color)
Content Position
Select content position (left / center / right )
Vertical Text
Add some text to display it vertically on the side
Subtitle
Add a subtitle
Title
Add a title
Use Title as Page Title (H1)
If you are displaying a Hero block instead of the page title, you can set the title to H1 here.
Divider
Check if you wish to display a divider
Content
Add content
Button Text
Add some text if you wish to display a button
Button URL
Enter button URL
Button Style
Select button style (Regular Button / Outline Button)
If you wish to display this block all the way on the top of the page, you can remove the page title and page padding top value. In the right sidebar, click Document → Page Settings and check the Hide Page Title and Remove Page Padding Top checkbox.